Gsertel participates in the first 8K signal broadcast in DVB-T2
Gsertel, always at the forefront of technology, has collaborated with the Catédra de RTVE-UPM in the first broadcast of the UHD 8K signal in DVB-T2.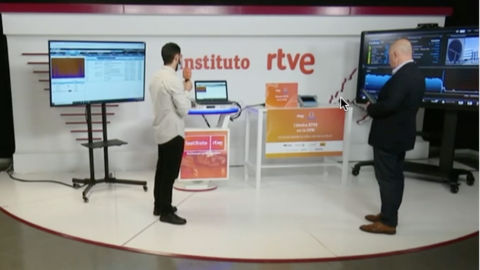 Picture above: Álvaro Llorente, researcher at the Aplicación de Telecomunicaciones Visuales Group (GATV) of the Universidad Politécnica of Madrid, with the Gsertel measurement equipment used during the broadcast.
This morning, the first broadcast of an 8K signal in DVB-T2 took place.
A milestone carried out by Radio Televisión Española and the Universidad Politécnica de Madrid within the framework of the Cátedra RTVE-UPM, thanks to the collaboration of Gsertel, TRedess and Televés (companies of the Televes Corporation), Cellnex Telecom, Dolby and Sapec, together with Abacanto as a collaborating entity.
Maximum image quality, free-to-air and for everyone. Not a distant future, but already a reality.
Following the safety recomendations for the COVID-19 situation, a blended event has been held that could be followd remotely thanks to the streaming signal provided by the Instituto Oficial de RTVE, and that now we can see in this link.